When I take my 1989 Purple Mustang Open Tracking (a money pit but totally ear-to-ear grins!), I like to review videos of my driving afterwards for what I did right, what I did wrong and what I can improve. If I provide beer and pizza, my non-track friends show polite interest in them too.
I chose the Garmin VIRB Elite from GPS City because it captures geo-tracking and performance data time-synchronized with the MP4 video and audio.
Notice the snap-in cradle which allows you to easily remove the camera and put it into your pocket when you park your motorcycle.
Two streams are recorded concurrently: the data and the video+audio. The data stream includes GPS, accelerometer and altimeter feeds. The free Garmin VIRB Edit software running on your PC or MAC integrates the two streams with a Google or Bing map overlay and a selectable performance data insert. Very very cool! But you need a computer with some juice or the integrated video and data isn't smooth.
The camera has a built-in microphone but for a PC800 on the road that would be boring compared with the Mustang at the track (I have FlowMaster 50s and have to ease off the throttle going up the hill to Turn 6 at Laguna Seca).
The camera has a removeable lithium battery good for several hours of recording and a USB charging port. You can purchase an external battery charger and extra batteries.
The camera can be configured to record automatically when you are moving or manually by a button press (on the camera or a remote). The camera is resistant to any weather you'd want to be riding in. The camera has a snap-in cradle (aka coupler) so you can take it with you without disassembling the RAM mount.
I used the following RAM mounting components: Round Plate with 1" Ball RAM-B-202U and Medium (3") Arm B-Socket RAM-B-201U. As I recall the camera came with a RAM mount 1" Ball adapter but check with GPS City to make sure.
--Bodywork Removal: windshield and meter panel.
Position the plate on the cowl centerline (12" left-right) and fairly close to the edge (so the arm's lock knob doesn't hit the cowl) with the word RAM in front. Drill four holes and fasten the plate with four machine screws. Don't forget the washers between the nuts and cowl or the plastic might be damaged. The cowl is slightly curved so tighten the screws in several increments rather than all at once so the plastic doesn't crack. Use a Black permanent marker to hide the shiny screwheads.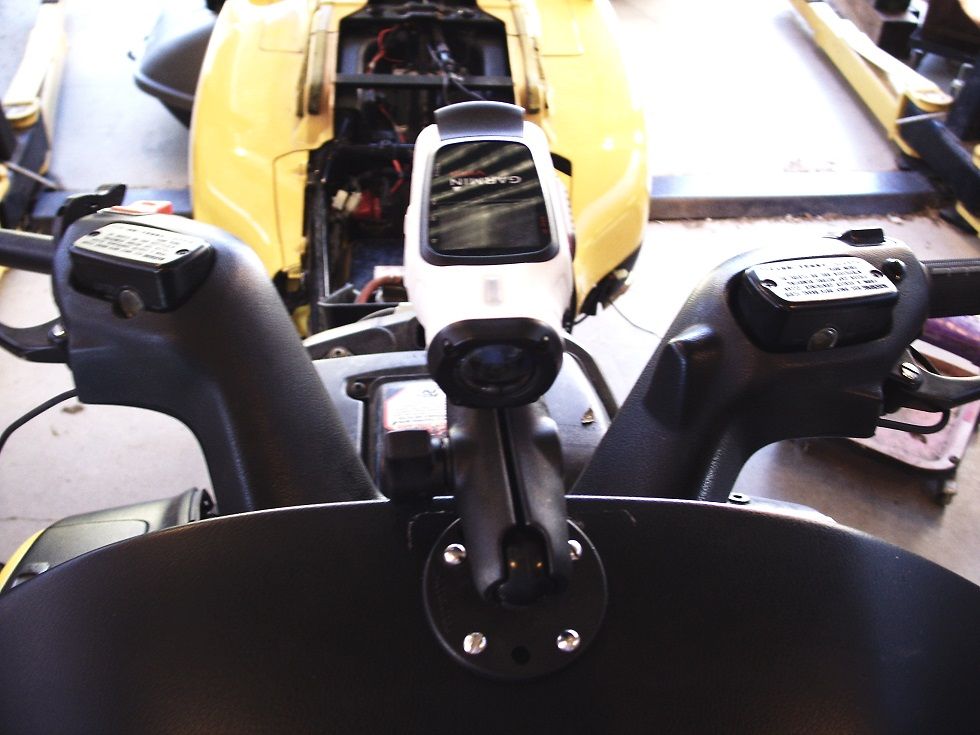 --Rating: 2 stars -- nice to have (share your rides)!